Doors
All our horse stall doors are hot dipped galvanized steel with solid round bars on 2 1/2″ or 4″ centers. Included with all doors are the mounting bottom guides, door stops, and handle.
Choose from full size doors 6'7″ tall by 48″ wide or 7'7″ tall by 48″ wide
Steel Mesh Door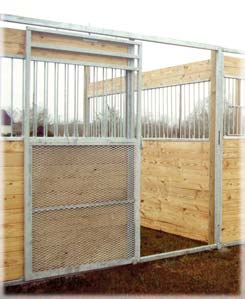 The steel mesh door is made with strong expanded metal mesh welded to the frames and provides for increased ventilation versus the wood door.
Wood Door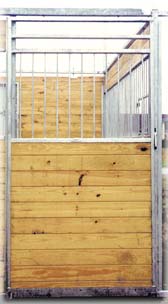 The wood door is designed to slide 2″ pre-cut tongue and groove boards in from the bottom and are secured with bolts or nails in the bottom panel before hanging. A very strong door!
Half Door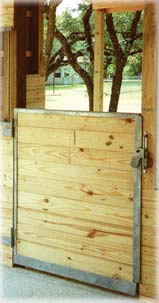 The half door is a popular design allowing maximum ventilation and is available in wood or steel mesh construction as above.
Diamond Door Grill

You can also chose the diamond or square door grill in either the mesh or wood door configuration.
Fold Down Grill (Rectangle)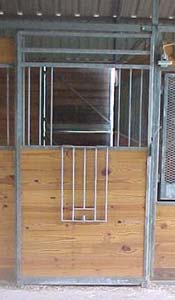 V Doors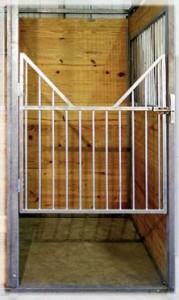 Dutch Doors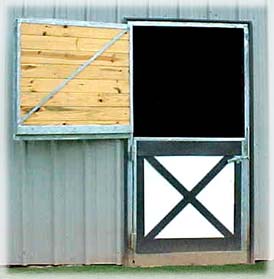 Sliding Bar Feed Stall Doors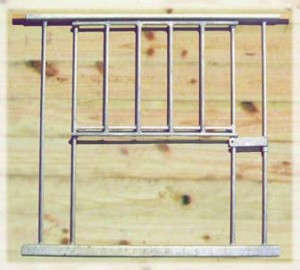 We have accessory doors for horse stalls or barn exteriors in a variety of designs to suite your needs…
Give us a call if you have questions regarding our doors or any other options regarding your horse stall or barn design.