Stall Frames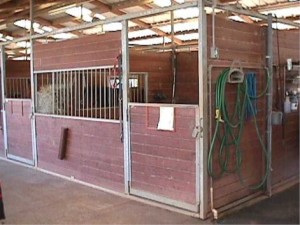 All horse stall frames are made of heavy duty 2″ square tubing with 2″ channel welded to the corner posts and have 8 feet tall walls. The channel holds the lumber in the walls without using screws or nails and the tongue and grove lumber is locked in place by a hold down, which fits into a hole provided in the top rib. Built to last…
Prices start at just $800.00 for a 10′ x10′ starter stall…check full pricing and part numbers for additional sizes.
How are they assembled? We'll be happy to send you a free instructional video that covers easy installation instructions…email us with a request or give us a call at 1-281-337-6311 or 1-409-925-7712
Stall Fronts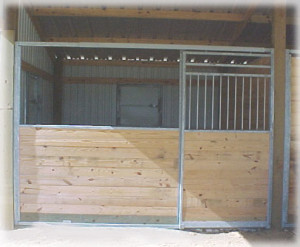 The horse stall fronts include two posts with channel for tongue and groove lumber and a post for the door. The frame bolts to the existing posts. The door and hardware need to be purchased separately depending on the style desired (see door selection and prices). All frames are 8 feet tall.Roof jacks are available in any length to match your roof height.
Assembly is simple… just check the assembly page plus you will receive an installation video with your order.
All frames are hot dipped galvanized for lasting a lifetime!
Connecting Stalls with Tackroom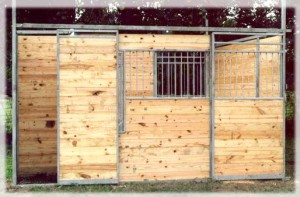 The connecting tack stall includes two corner posts, one door post, three top ribs, three bottom ribs, hold downs for each wall and all fasteners to complete the assembly. The tack walls are 8 feet tall to match the stall walls.
This horse stall and tack room suite provides the ultimate in convenience… a stall for your horse and a location for feed, tack and other items. It is a very popular offering for boarding!
The unit is shown here with the wooden door but you can choose other styles such as our mesh door or diamond door. You can browse our door selection via the Doors navigation selection on the topof your screen.
Shed Rows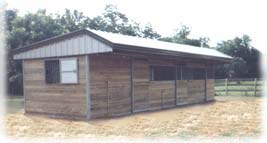 All horse stall frames are made of 2″ square tubing with 2″ channel welded to the corner posts. The channel is used to hold the tongue and groove lumber in the walls without using screws or nails. The lumber is locked in place by a hold down, which fits into a hole provided in the top rib. The walls are 8 feet tall…just add our roof jacks available in any length to facilitate the height of your barn.
Add a roof and you have completed modular stall facility with minimal efforts and minimal cost!